Creative Improvement
AUSTIN, TX
Did you know that Live+Work units are among the oldest forms of housing? Originally called 'shophouses', these spaces have long existed in cities, towns and villages, providing a space where commerce and housing could take place on the same property, without either being compromised.
Typically, Live+Work units are found in converted warehouse buildings, and are occupied by residents who don't mind compromising fewer building amenities for obvious advantages of this home type, like added flexibility within their home and commute time. At One Oak, there are five different plan types that offer Live+Work functionality, all with the added benefit of access to extensive in-building amenities. Not only will these retail storefronts be able to take advantage of this energetic neighborhood and foot traffic (and likewise, residents will be able to take advantage of the additional amenities these storefronts will provide), but owners will have access to extensive in-building amenities, including the "Creekside Lounge" and infinity pool. At One Oak, these Live+Work units will bring the streetscape to life, and will soon be home to a coffee shop, space, designer furniture store, and gallery.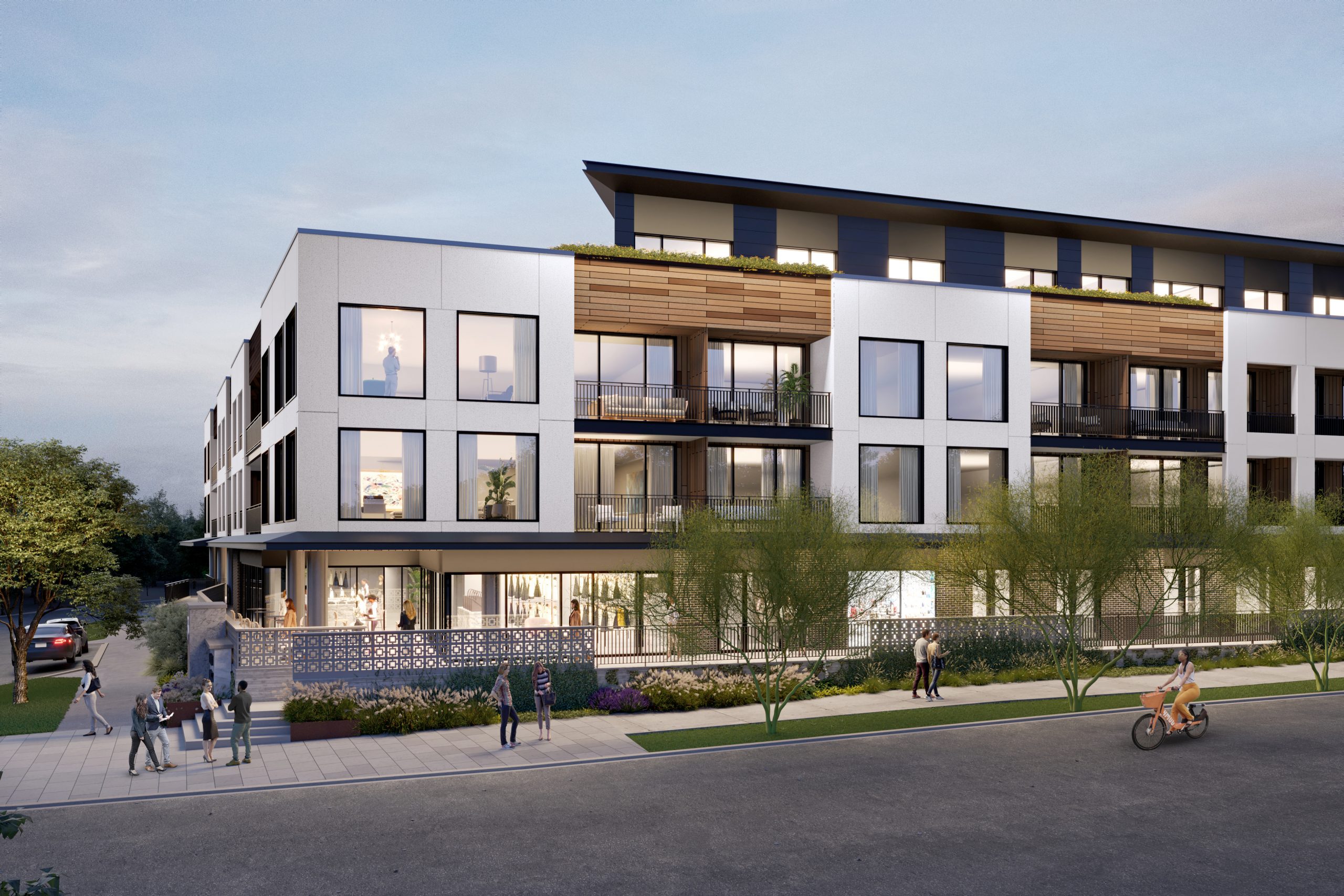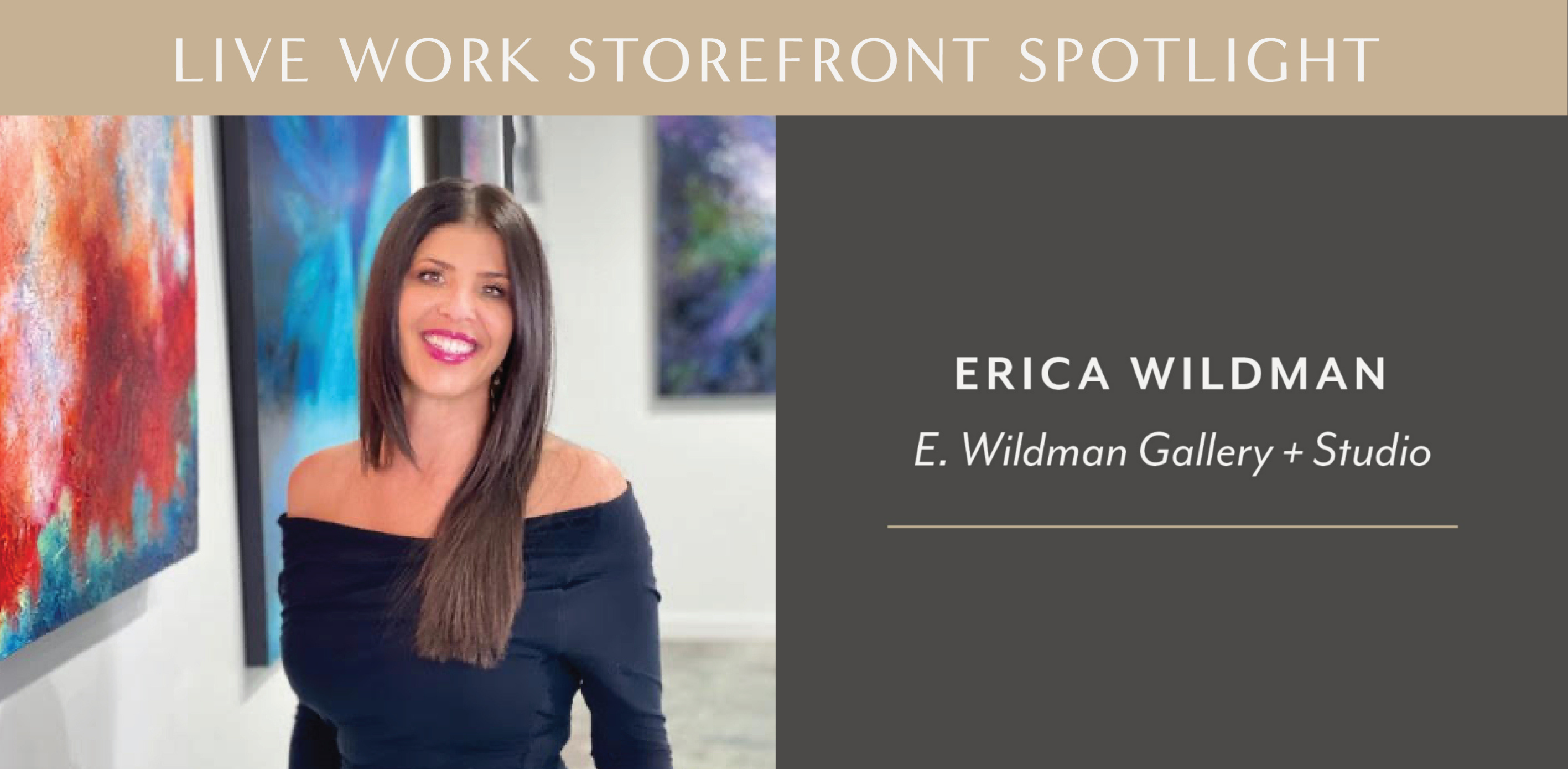 We're excited to feature one of One Oak's future Live+Work owners, Erica Wildman, owner of E. Wildman Gallery + Studio, and future resident at One Oak.
How did you get into the art world, and how did the idea for E. Wildman Gallery come about?
I feel like art found me, honestly. I had an office in San Francisco in 2006 with no windows and I wanted to brighten the space up because I worked such long hours. Around that time I had gone to a friend's house and noticed a new piece of art hanging above her fireplace and inquired about it. She said she had made it and I was like, "Hey, I want to make something for my office!" I went down to the art store that weekend and bought supplies. I had no idea what I was doing…I just went for it. After painting three pieces, I hung them in my office. A few weeks later a gentleman came in and asked me about them. I was super embarrassed as the art was supposed to be for my eyes only. He asked me what medium I used and I had no clue what he was asking me. He politely said, "What kind of paint did you use?" Still not having an answer for him he told me how much he liked them and we got to chatting. He had a small gallery and asked if I would like to hang my artwork and have an art opening. I reluctantly said yes and it was there that I sold my first piece. In late 2010 I moved back to Austin and decided to take the leap of faith and do it professionally in 2011. I have been doing art ever since. To this date, I've never taken an art class. In 2012 I rented a small space in downtown Austin to showcase my art so it only made sense to me to name my company E. Wildman Gallery.
How did you decide on a Live+Work space at One Oak, and how do you foresee using the Work portion?
Seeing the Live+Work space at One Oak got me SO excited. It has always been something I had wanted for myself but finding those kinds of spaces are hard to come by. For me, it was an easy decision. I will use the work space as a gallery to showcase my artwork.
What is your favorite aspect of being a business owner?
My favorite aspect of being a business owner is knowing that it's mine. It gives me drive and the hustle to keep going every day to make my business strong and ultimately successful. I also love the the wealth of knowledge you learn as you navigate your way through different segments of running a business.
Who or what has been your greatest inspiration?
Honestly, my parents. Seeing their work ethic growing up has played a huge part in giving me the strength to follow through on this dream of mine.
Learn more about E. Wildman Gallery at EricaWildman.com