Whether it's friendly competition or a serious game you're looking for, one of BC's top golf courses is just minutes from Gardena. The Vancouver Golf Club is a private, exclusive 18-hole course spread over 176 acres of park, yet nestled within the city. As one of Vancouver's most picturesque yet complex courses, this is the perfect place where you can up your golf game, perfect your swing with regular tee times, or enjoy happy hour on the dining room outdoor patio.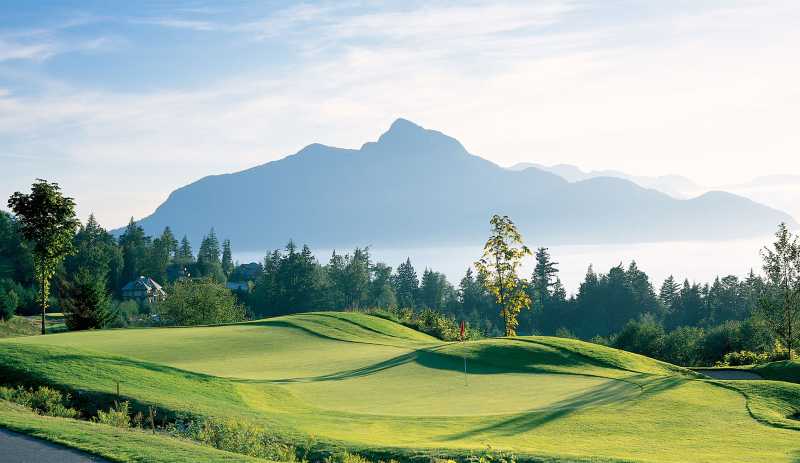 Conveniently Located
Located at 771 Austin Avenue in Coquitlam, The Vancouver Golf Club offers an array of incredible opportunities just moments from Gardena. In fact, the golf course is only 35 minutes on foot, or a 9-minute drive from the heart of Burquitlam. Explore the neighbourhood on foot with the clubs patio as your final destination, or throw the clubs in the car.
More than just golf
Headed by James Breuer, the Vancouver Golf Club restaurant is a high-end destination in itself. The restaurants' culinary team is also bolstered by current Culinary Director and Chef-In-Residence, Rob Feenie, a two-time winner of Iron Chef who has collaborated with some of the world's top chefs, and now brings his international knowledge to Vancouver. The menu features a range of classic and innovative west coast dishes paired with delicious beverages. Enjoy both when you sit outside on the patio overlooking the course or stay warm by the trademark fireplace during the cooler months.
In addition to private dining opportunities, the club also offers events for members, ranging from intimate corporate gatherings to expansive weddings.
A personalized golf experience
Golfers will enjoy the pro shop at the Vancouver Golf Club, which offers a wide selection of golf apparel, clubs, bags, and accessories. Inquire about a personalised shopping experience to look the part on this championship course.
Explore Membership Opportunities
Touch base with the customer service team to learn more about Membership opportunities at the Vancouver Golf Club. This is the perfect place to become an experienced golfer while connecting with others from this incredible budding community.