If you're a Burnaby resident or simply passing through Metrotown, be sure to check out Nam Dae Moon, a hidden gem that specializes in signature rice cakes and mochi balls. Located at 6868 Royal Oak Avenue in Burnaby, Nam Dae Moon is open from 12:00 – 8:00 PM every day of the week, ensuring you'll never go hungry for rice cakes and mochi.
Commitment to the best ingredients
The team behind Nam Dae Moon are committed to using the freshest and highest quality ingredients in their rice cakes and mochi balls. Their 3 key ingredients: glutinous rice flour, seasonally selected toppings, and fresh cream allow them to craft the freshest rice cakes with exceptional flavour. The rice flour and seasonal selected toppings create the perfect sweetness, and the fresh cream helps craft a smooth, light cream filling for the centre of the mochi balls. And that's not all! The rice cakes are cooked in small batches throughout the day to maximize freshness and enhance chewy perfection in every bite.
With the rice cakes and mochi balls available in a variety of shapes and colours, you won't even want to take the first bite! Rice cakes are available in traditional flavours such as Blackbean and Sesame and experimental flavours including Osmanthus and Oreo Chocolate Lava. The mochi balls are a visual delight, and exciting flavours such as Strawberry, Durian, and Purple Sweet Potato lie underneath their vibrant, colourful exteriors.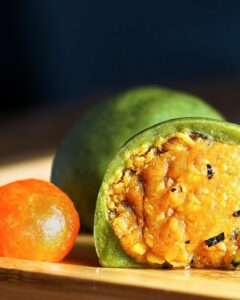 Steeped in Tradition
Inspired by Chinese tradition, the rice cakes at Nam Dae Moon are available in boxed collections, encouraging family and friends to enjoy them together. They make the perfect takeaway for special occasions and are a fantastic addition to Lunar New Year celebrations.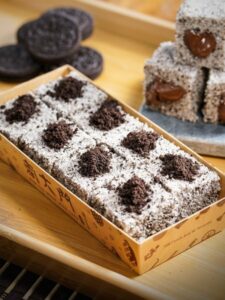 Contact Information
Location: 6868 Royal Oak Avenue, Burnaby, BC
Hours: 12 – 8 PM, 7 days a week
Phone: 604.559.6789
Website: www.namdaemoon.ca