As spring approaches, the days are getting longer as the sun is once again gracing the beauty of the Pacific Northwest. Many Vancouverites are emerging from their indoor respite, becoming active and mingling within the community. If you're one of the many city dwellers seeking community engagement, look no further than Burnaby's Central Parkrun.
About the Central Parkrun
Join neighbours and meet new friends at The Central Parkrun – a 5 km run that takes place each Saturday at 9 am. Starting at 3883 Imperial Street, walk, jog, or run through the beautiful natural environs of Burnaby's Central Park.
All athletic levels are welcome! Attendees can walk, run or jog, setting the pace that best suits them. Even if you're emerging from your winter respite and just getting back into the swing of things, don't stress – this event is for you too!
The run is photographed, and stats are captured – ensuring you can track your progress and reflect with pictures of the event. To reduce carbon footprint and maintain the natural beauty of the surroundings, all attendees are encouraged to walk, job, cycle or use public transportation to get to the event.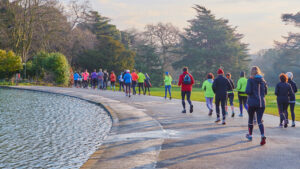 Coffee Connections
The Central Parkrun is a great way to meet new friends and connect with neighbours. After the run, stop by Waves Coffee House for coffees, hot chocolates, and delectable pastries. Even if you're unable to participate in the run, you're encouraged to join the runners afterwards at Waves.
Volunteers Welcome
If running isn't your passion but you want to connect with the community, the Central Parkrun is actively seeking volunteers to coordinate the event. If this sounds like something you may be interested in, connect with the organizing team here: centralburnaby@parkrun.com.
About the Series
Date: Every Saturday Time: 9:00 am
Location: 3883 Imperial Street, Burnaby
Cost: Free
Register Now
Make sure to register for the event. The event is free of cost, but all attendees must register beforehand. Register via the link here. Once you've registered, don't forget to bring a scannable copy of your event barcode to show to event registration upon arrival.
Only moments from Telford on the Walk
For residents of Intracorp's Telford on the Walk, the Central Parkrun is only minutes away. From Telford on the Walk, its only a 13 minute walk or 5 minute cycle from the start of the Parkrun. With a location this close, there's never been a better time to join in on the fun.
Learn More
To learn more about the Central Park run, and to register yourself, friends, and family, follow the link here.