The next time you're shopping in Metrotown and you feel the rumblings of hunger, be sure to stop in at The Dolar Shop for an exceptional culinary experience. Located at 6078 Silver Drive in Burnaby, The Dolar Shop is conveniently located across the street from Crystal Mall and only moments from the Metrotown SkyTrain Station.
Origins in Chinese Culture
The Dolar Shop specializes in Hot Pot, a traditional Chinese dish that originates from Macau, China. Widely recognized as the Las Vegas of the East, Macau is a vibrant and bustling city defined by bright lights, exceptional entertainment and culinary experiences, and a hybrid culture that merges East with West. Here, hot pot is one of the most beloved styles of dining, and one that encourages friends and family to connect over food and share a dining experience.
In 2015, the team behind The Dolar Shop, inspired by the East/West culture of Macau, began creating their own fish balls and slices of high-grade beef, pairing them with an exceptional blend of homemade sauces to create a totally unique dining experience. They were inspired to share the food with the world and opened The Dolar Shop – naming the restaurant after the Chinese world Dolar which signifies the willingness to work hard to achieve prosperity. Here was a place where Chinese-Canadians could relish in familiar flavors, and where those new to hot pot could experience an intricate part of Macau dining culture.
The Dolar Shop Philosophy
The Dolar Shop encourages patrons to stay curious, courageous, foolish, and above else – hungry! Their culinary team strives for excellence, understanding that the key to a great cuisine is quality ingredients. Constantly innovating and adding new items to the menu, they are dedicated to ensuring an exceptional dining experience for each and every guest.
Commitment to Sustainably Harvested Seafood
The Dolar Shop's location in Richmond, BC, was the first hot pot restaurant in Canada to partner with Ocean Wise, an organization committed to promoting sustainable seafood. Their participation in Ocean Wise ensures that all fish served in Dolar Shop meals are of the highest quality and can be traced back to an ethical source. Ocean Wise also identifies and recommends suppliers that ethically harvest and maintain healthy marine ecosystems.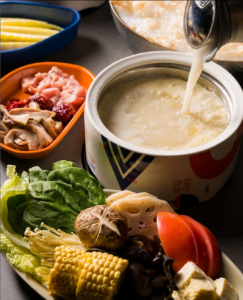 Contact Information:
Location: 6078 Silver Drive, Burnaby
Hours of Operation: 11:30 AM – 11:00 PM 7 days a week
Phone Number: 604.558.1606
Website: www.dolarshop.com