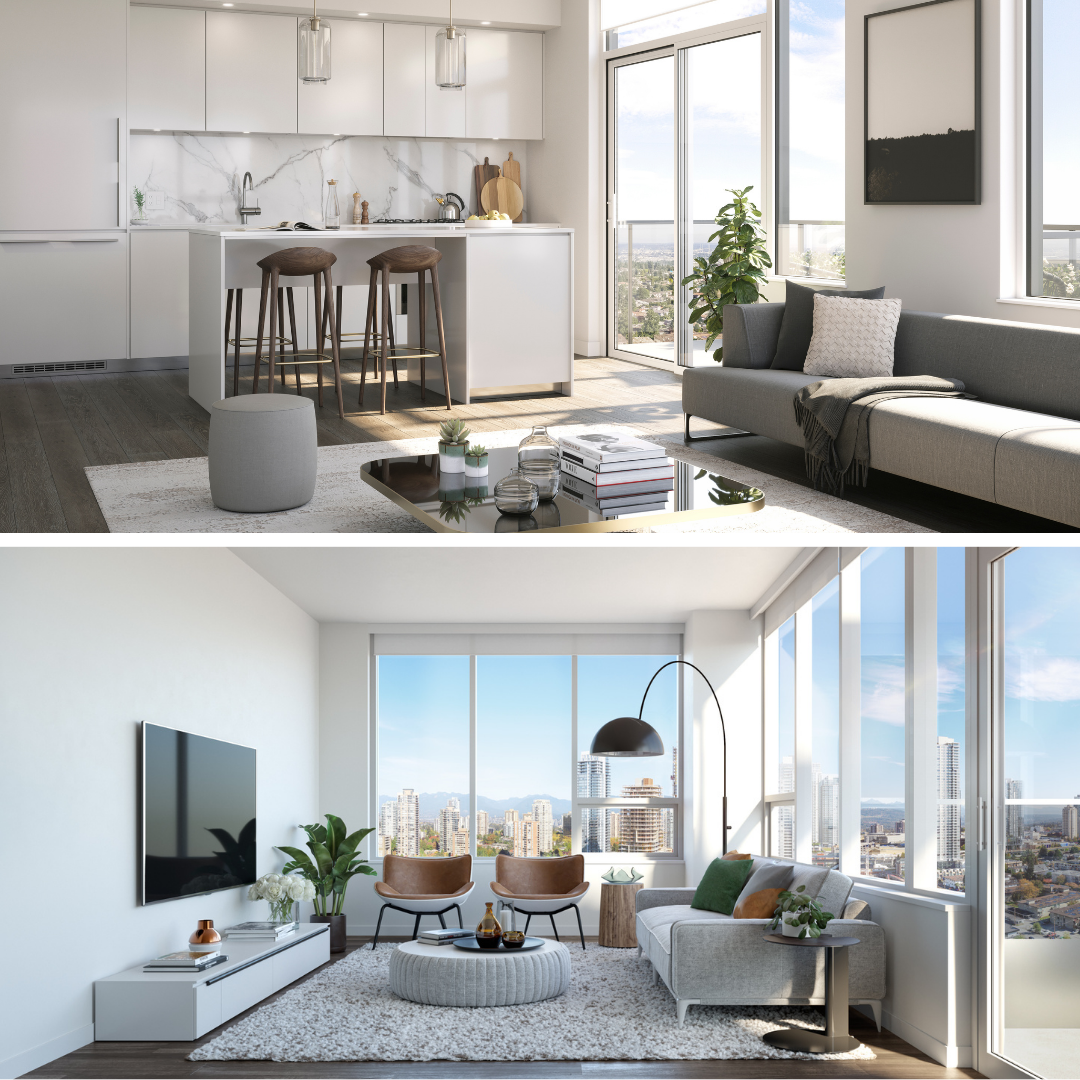 Maywood on the Park is thoughtfully designed to celebrate its connection to nature, drawing creative inspiration from the park on its doorstep. Calming, clean and comfortable, Maywood homes feel like an oasis, offering a respite from the hustle and bustle of urban life.
Spending time in nature has been proven to benefit our mental well-being, providing stress relief, reduced anxiety, and improving mood. By embracing and integrating natural elements into your indoor space, you can create a peaceful and restorative sanctuary to come home to.
Here are some of our favourite interior design tips to bring nature indoors:
POTTED PLANTS
The easiest way to include nature in your home décor is with potted plants and fresh flowers. Living greenery can infuse a breath of fresh air into your home (literally), all while absorbing airborne pollutants. If you're looking for plants that are easy to care for, we recommend:
Palms
Ivy
Peace Lily
Aloe
Snake Plant
Spider Plant
Philodendron
To find the perfect plant for your indoor space, check out West Coast Jungle in Mount Pleasant, a boutique plant store specializing in trending and rare house plants.
NATURAL COLOUR PALETTES
Draw inspiration from nature's colour palette. Burnt oranges and warm browns inspire warmth and coziness, while sage greens, cool grays and mocha beiges bring a fresh, calmness.
While you may have heard of Exposure, the popular clothing store with locations in Vancouver, you probably didn't know about Exposure Home – their home furnishings location on Commercial Drive. Here, you'll find unique décor accessories and furniture items that use natural colours to inspire an organic, modern style for your home.
BOTANICAL PRINTS
Prints and fabrics that represent the natural world are a wonderful way to achieve integration between indoors and out. If you're feeling bold, try upholstering your curtains or accent chair with your favourite botanical fabric. If you'd prefer a more subtle look, play around with floral throw pillows or frame prints of nature or patterns of the natural world.
Vancouver-based artist Denna Erickson creates landscape and botanical paintings consisting of organic shapes layered in glazes of luminescent colour. Click here to view her beautiful collection.
MATERIALS & TEXTURES
Capture the essence of the outside world by incorporating natural materials and textures into your interior space. Think wood, stone, marble, bamboo, seagrass, cotton, and linen.
The Cross Décor & Design is one of our favourite independent design stores in Vancouver. Their stunning selection of accessories and furniture pieces utilize interesting and natural materials and textures to make your home a comfy west coast retreat.
AROMATHERAPY
Aromatherapy can do wonders for relieving stress and helping you unwind from your day. Bring the scents of the outdoors to your home with natural scented candles or an essential oil diffuser.
Saje Natural Wellness understands the benefits of bringing nature indoors. Saje offers a selection of thoughtfully designed essential oil diffusers made from high-quality materials to elevate your wellness and home.