If you're yearning to visit a natural haven close to the city — or you just want to stroll alongside manors and lawns inspired by the English countryside without ever leaving Burnaby — then Deer Lake Park is for you. Here's just a sampling of activities ready and waiting:
Be In Nature:
Ahhhh. That's what it sounds like to walk the 5km loop around Deer Lake, past beaches, piers and playgrounds with greenery positively everywhere. (The park is 200+ hectares in size!) There are birds to spot and tadpoles for kids to catch as you move from wetlands to groves of trees bursting with autumn colours. Or, if water is more your scene, rent a boat and head out for a calm paddle (or peddle) on the lake itself.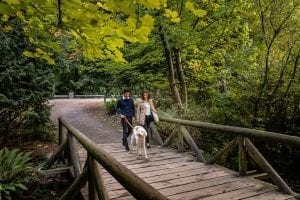 Rock Out (Outside!):
Last year, over 45,000 concert-goers swayed and sang together on Festival Lawn — the park's famous outdoor music venue. On select summer days and nights, the environment is electric as top artists take to the stage — bands like Weezer, Panic! At The Disco, Jack White, Tegan and Sara, Lauryn Hill and Beck. For so many locals, the first Deer Lake concert marks the official start of summer.
Soak Up The History & Arts:
Deer Lake is not only pretty, it's also the headquarters of Burnaby's arts, culture and heritage scene. Beauty and brains, together in one. Take in the collection of Edwardian-style homes built between 1904 and 1935 that dot the property. There's even a heritage home walking tour you can download.
Make sure to visit Fairacres Mansion, built in 1910, which also serves as the Burnaby Art Gallery. The gallery has over 5,000 prints by a who's who of Canadian artists, including Jack Shadbolt, Sylvia Tait and Takao Tanabe. Or take in the art classes, theatre performances and festivals of the Shadbolt Centre. There's even a packed Christmas Market here every season where you can pick up jewelry, glassworks, sculptures, local honey — you name it — as unique gifts to put under the tree.
The best part about Deer Lake is that it's right in the middle of Burnaby. So, if you need to catch the SkyTrain or balance out all that tranquility with some high-energy retail therapy, Metrotown is only a few minutes away.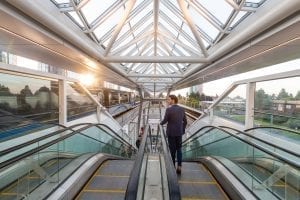 Learn more about our Metrotown project near Deer Lake Park, Maywood on the Park.