Connectivity and sustainability are essential components of modern life. South Vancouver residents, including those who will live in the future Ashley Mar development, will have the pleasure and advantage of using the Canada Line Pedestrian-Bicycle Bridge to commute by foot or bicycle between Vancouver and Richmond across the Fraser River. This accessible bridge connects Richmond to Vancouver and is ideal for those who wish to get active, enjoy the outdoors, or commute sustainably.
The Pedestrian-Bicycle Bridge was built in 2009 to allow easy travel between Vancouver and Richmond, and to improve connectivity for cyclists. The bridge adds an additional connector to the already-expansive biking network in the region. It promotes a healthy, balanced lifestyle, provides an alternative to commuting via SkyTrain, and offers views of Vancouver and Richmond.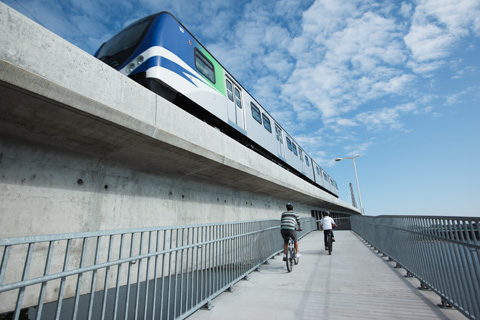 In 2022, the Pedestrian-Bicycle Bridge saw a new addition: three breathtaking murals by local Indigenous artists Mack Paul, Diamond Point, and Hailee Stogan. These murals represent the relationship of the past, present, and future of the lower mainland region as it relates to colonialism and reconciliation. Spanning 17 feet long and 7 feet high, each of these powerful images include an artists' explanation about the deeper connection to the forces of reconciliation.
This bridge is open 24/7 and will be easily accessible to Ashley Mar residents. Located on the corner of Marine Drive and Cambie Street, Ashley Mar will be a three-tower development redefining the South Vancouver region. The community will feature both market rental homes and co-op opportunities, providing much needed housing to the neighborhood.\
Ashley Mar has something for everyone and is located just steps away from the Pedestrian-Bicycle Bridge, encouraging sustainable transit and a balanced lifestyle.
Learn more about Ashley Mar here.