Article by Shonda Novak, Austin American-Statesman
A North American developer has big designs on Austin, with plans for a 65-story residential and hotel project downtown that would become the city's second tallest tower.
The developer, Intracorp, said the tower will have a Hilton luxury-brand Conrad hotel with 330 rooms, along with 136 condominiums, as well as restaurants and retail space. Intracorp has not yet given an estimated cost for the project, or said whether financing is in place.
The hotel would be Hilton's only Conrad-branded property in Texas. Intracorp said the high-rise would be the tallest hotel and condominium hybrid building in the city. The project would be built in the 300 block of East Second Street, just west of the Austin Convention Center across Trinity Street. Intracorp initially filed plans for the tower last year with the city of Austin, and the project continues to work its way through the city's review process. The site currently includes Micheladas Café y Cantina and the offices of Knight Real Estate.
The real estate offices, at 307 E. Second St., are in a historical building that will be conveyed to the nonprofit Guadalupe Neighborhood Development Corp., Intracorp said in an email. Intracorp said the building will be preserved and moved to the Guadalupe-Saldaña affordable housing subdivision, which is in East Austin's Govalle neighborhood. Intracorp has named its planned tower the Conrad Austin and Conrad Residences Austin. The building is expected to be 750 feet tall, which would make it the second tallest on the skyline.
The building destined to become Austin's tallest is under construction at West Sixth and Guadalupe Street. That high-rise — a 66-story skyscraper called Sixth and Guadalupe — will tower 875 feet into the air and will include apartments, office and retail space. Facebook's parent company Meta Platforms will occupy all 589,000 square feet of the office space across 33 floors in the Sixth and Guadalupe tower, which is due to be completed next year.
Among residential buildings, Austin's tallest current tower is a 58-story condo high-rise downtown called the Independent, often referred to as the "Jenga Tower" for its stacked, offset design.
Intracorp said its new tower will have condos ranging from one to four bedrooms. It has not yet quoted a projected price range for the condos. "Given the stage of the project, we have limited details to share right now. There will be more information to come in May," the company said in an email.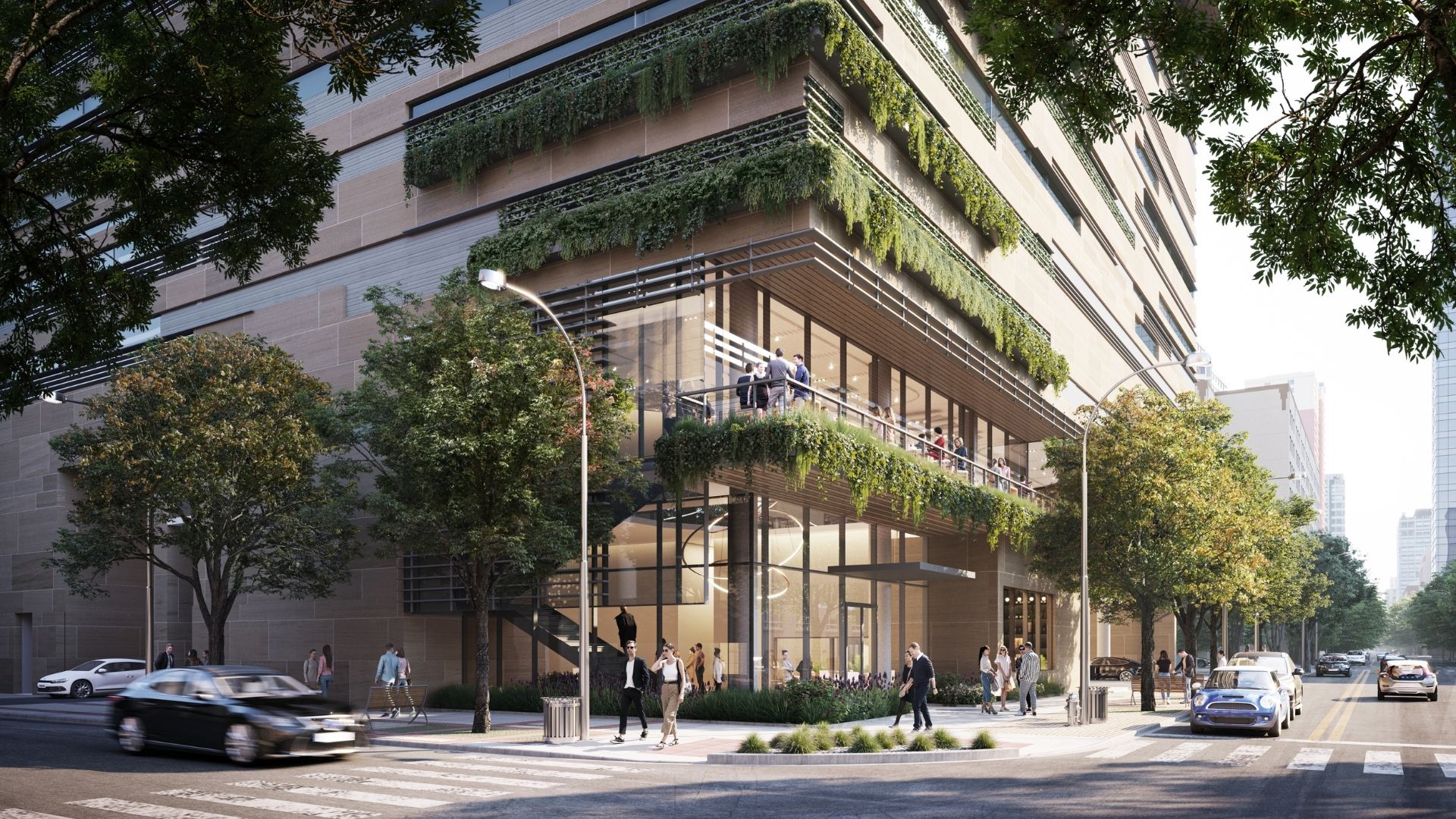 Huge Growth in Austin
Intracorp's tower comes as the Austin region is experiencing exponential growth. The influx includes many high-income newcomers who are moving from more expensive housing markets and are taking jobs in Austin's surging tech sectors, industry experts say. Tesla and Oracle have relocated their headquarters here, and companies including Apple, Facebook, Google, Amazon are all expanding here.
"Over the past few years, there has been a huge growth in Austin with major tech brands now calling this city home," said Brad Stein, president of Intracorp Texas. "Conrad Residences Austin will serve this demand for new luxury housing and increased tourism."
The announcement of the Conrad brand coming to Austin arrives as the region's lodging market "continues to attract strong hotel investor and developer interest, despite the pandemic," said Chelsea McCready, senior director of Hospitality Analytics for CoStar Group Inc., a commercial real estate information firm.
In downtown Austin, 6,800 hotel rooms have opened since 2015, with 2,200 of those having opened in the past two years, she said.
"In fact, after about seven years of elevated supply growth, Austin still ranks fourth in the U.S. for the number of hotel rooms under construction relative to the size of the market," McCready said. "The heightened hotel developer interest in Austin is rooted in the market's strong fundamentals and continued economic growth."
On the residential side, Compass Development Marketing Group, a division of Compass Inc., will handle sales and marketing for the condos in the planned new tower.
Elsewhere downtown, Intracorp developed a 49-story high rise in Austin's Rainey Street District, where all 309 condominium units have been sold. Larry Speck and his architecture firm, Page, designed that tower, named 44 East Ave. Page also will be
designing the exterior of Intracorp's new tower, with the interiors to be designed by Houston-based Rottet Studio.
Elsewhere in Austin, Intracorp also is developing a condo project with 106 units on South First Street called One Oak, on a site formerly known as Slackerville. Located at 2209 South First St., the project is due to open in 2023. Intracorp has said those
units are expected to be priced from the $400,000s to $1 million and up.
Read full article here.